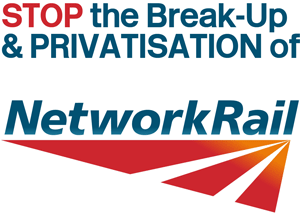 STOP the Break-Up & Privatisation of Network Rail
Why is this important?
Network Rail was formed in 2002 after the tragic failure of the privately-owned Railtrack plc, which was heavily criticised over several #
fatal
train crashes in the late 1990s (particularly in #
Southall
and #
Ladbroke
Grove where 38 people lost their lives).
It was acknowledged at the time that #
profit-making
had proven
#incompatible with the need to put the public's #safety first
.
Although Network Rail's record hasn't been perfect,
it has demonstrably improved safety standards
on our railways, and as long as it remains in public hands we can continue to work to improve it.
Sign petition
https://you.38degrees.org.uk/petitions/stop-the-break-up-privatisation-of-network-rail
#
privatisation
#
rail
#
NetworkRail
#
CapitalismMustGo
#
trains
#
accidents
#
government
#
corruption
#
capitalism
#
greed
#
profits
#
ToryMadness
#
Tory
#
Tories
#
transport
#
PublicTransport